OUR Bargain offer

Also - A great present for a gardener!

Looking for a special present for someone who loves their garden?
A Retirement present perhaps?
A gift for someone who buys more fancy plants than fancy pants?
Or indeed, perhaps that's you!

They (and you) will love the NEW features in:
Ideas Genie Pro 6- Software for Plants and Gardens - and Plant Lovers!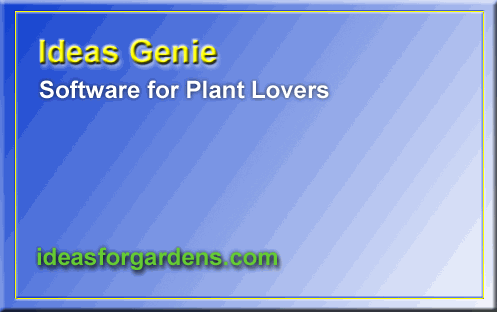 Ideas Genie Pro will help the lucky recipient to:
keep track of the names of the plants they buy on their shopping sprees
keep track of where those precious plants are planted in their garden
organise all those stunning photos of their garden and plants
store all those wee notes about how to care for their plants
plan their garden tasks
print labels for their plants
print garden tour leaflets to impress their garden visitors
browse through an inspiring database of more than 36,000 plants and over 2000 photos
of plants and gardens which comes free with this software.
use integrated surfing aids to go plant hunting on the net to find information on
plants and seeds
create next years wish list, with photos
play with practical software in the winter months when their garden is taking a rest
What kind of computer do they need?
Ideas Genie runs on any PC running Windows 10, Windows 8, Windows 7, Windows Vista and XP.
Happy on 32 bit or 64 bit architecture.

Will it work in their country?
Ideas Genie is working fine in the UK, USA, Ireland, Italy, Canada, Australia, New Zealand, Belgium, France, Netherlands, Sweden, Denmark, Lithuania and other countries.

Our Bargain offer
Buy Ideas Genie on CD
(Approximate conversions to US dollars and Euro will be shown when you Add to Basket)
33% Discount (approx)

Free delivery to any country

Same day despatch if ordered before 4 pm, else next day.
Despatched 1st Class post to UK (usually arrives next morning)
Small Packet delivery to other countries.
e.g. US, Canada, Australia, New Zealand - allow 3 to 8 days for delivery.
£39.10 £31.00 - Free Delivery- any country. ONLY FROM THIS PAGE (We want to see who's visiting!)

-OR- As a download (for yourself!)
£35.10 £28.00 - Get the download link immediately.
Licence to follow by email when order is processed.



More about Ideas Genie Pro 6- Software for Plants and Gardens
The Ideas Genie software is created and marketed by us - ideasforgardens.com
The software was first introduced in the UK in 2001.
We launched this software in 2003 at the Northwest Flower & Garden Show in Seattle, USA.
Ideas Genie has evolved continually since then.
You will receive the LATEST RELEASE Ideas Genie Pro 6, upgraded and re-released in May 2015

You can read more about Ideas Genie on our Ideas Genie sales website.

Come back to this page for the bargain!